ETEK understands the importance of enabling a successful, secure and sustainable operation. We provide in-depth industry and technology-specific expertise in order to fulfill your specific challenges and meet your goals. Our undertaking and responsibility to you is to assist in reducing project risk and to implement solutions unique to your needs.

As your preferred partner, we ensure that we listen, understand and recognize your company culture and philosophy. We pay attention to your immediate issues, concerns and goals but also invest to understand the medium to long-term objectives required. When we are satisfied that we completely understand your individual situation, we use our wealth of in-house experience and partner resources to deliver tailored, viable and maintainable solutions.

Our service teams are versatile in the way they operate and offer flexibility to ensure your specific needs are met. Dedicated to operational excellence and efficiency, we constantly review and improve service levels to guarantee our clients' investments.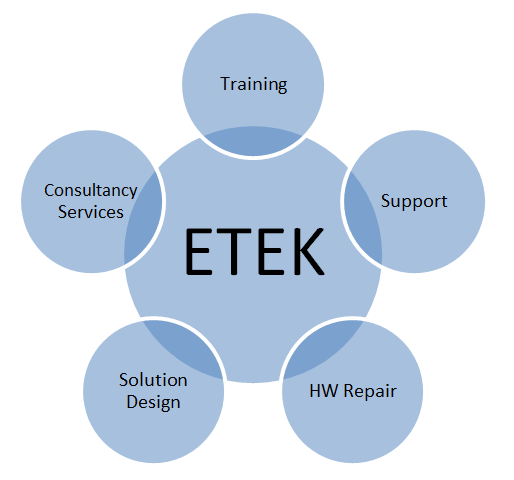 Solution Design:
At ETEK, we pride ourselves on the unique and individual relationships we build with our customers. One of the ways we do this is by meeting their specific needs while focusing on the quality and cost effectiveness of the best in class services we provide. The safe manner in which we go about our business and the provision of skilled and reliable people to ensure that our interaction with our customers is the best it can possibly be is another.
Solution Architect: Translates a customer's need or objective to a viable solution with either Hardware or Software or both in order to meet
requirements. Propose a cost effective and reliable solution
Pre-sales and sales activities: Our sales and pre sales teams are able to present and respond to specific customer needs and requirements. Their technical expertise ensures that required compliances, product demonstrations and technical proposals are efficiently and competently handled.
Consultancy Services:
We offer fully scheduled, part-time services or as a when required services in order to help you meet your specific needs throughout the lifecycle of your individually tailored maintenance strategy.
Our application consultants are available to provide expert assistance with product installation, upgrades, and product best practice services. Our Consultancy Services are available to you anytime. We can assist during the pre-and-post-implementation stages of your project and where there is a utilization of any of our specific technologies.
Training:
Our extensive, adaptable training portfolio is concentrated on assisting and ensuring our customers develop their workforce so that they are
predisposed to meet any challenge – and ultimately, improve production, lower turnover and increase employee morale. Individually tailored industrial specific training can be delivered by our echo training partners.
We offer special training on specific industry standards, protocols and best practices for our customers. Below list is an example of training courses we can offer.
OPC Protocol
DNP3 / IEC 61850 Protocol
IEC 61131 Programming Standards
OEE Standards
ISA-95 Standards
CMMS Best Practice
HMI Best Practice
Technical Support:
Our team of Product Support Specialists and Certified Application Engineers are ready to answer your questions and help you solve your technical issues. Whether you need; guidance installing, configuring and maintaining equipment and software, diagnosing and fixing operating problems or performing basic programming tasks. We deliver the tools and answers that you need to keep your manufacturing and industrial automation equipment up and running.